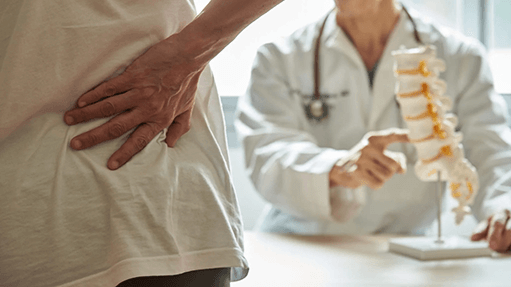 Our clinics are the perfect place to come for back and neck pain treatment. Our therapists are experts in treating disc herniation, low back pain, and sciatica. We use various techniques to help our patients feel better, and we design custom treatment plans to fit everyone's needs. We prioritize a warm and welcoming environment, and we strive to make every patient feel comfortable and respected. If you are looking for neck and back pain treatment, the H2 Health Family of brands can help!
Our specialist physiotherapists are trained to identify and treat the specific area (cervical, low back, SI joint) that your back and neck pain originates from.
CERVICAL PAIN
If you are suffering from neck pain, you're not alone. In fact, nearly two-thirds of Americans will experience neck pain at some point in their lives. If you are experiencing one of the following symptoms, it may be time to seek professional help for your pain:
Tingling in your fingers or arms
Difficulty in moving your fingers or arms
Difficulty in turning your head sideways
Constant headaches
There are many potential causes of neck pain, and our certified specialized therapists can help you sort them all out. Some of the most common ones include:
Poor posture
Muscle strain
Spinal stenosis
Cervical disc herniation
Degenerative disc disease
Our therapy team understands that having neck pain is debilitating. It causes problems while working, and sleeping, and disrupts your everyday routine. Fortunately, we have the right solutions for you. Our advanced outpatient clinics and its qualified therapists offer a variety of services that can help relieve your neck pain quickly and efficiently.
LOW BACK OR SI JOINT PAIN
Back pain and SI joint pain are two of the most common reasons people visit the doctor. In fact, nearly 80% of adults will experience back pain at some point in their lives. In many people, especially the elderly and women who have given birth more than once, back pain is associated with various other adverse symptoms. You may be experiencing the following symptoms due to a problem originating in your lower back:
Difficulty walking straight
Imbalance while walking, standing, or running
Difficulty in getting up from a seated position
Pain in your buttocks
Pain radiating to your legs and feet
Back pain could be caused by many different reasons. We can help you with the underlying causes of your back pain. Some of the most common causes include:
Disc herniation – This occurs when the gel-like center of a spinal disc leaks out and puts pressure on the surrounding nerves. This can cause a lot of pain and may even require surgery to fix.
Spinal stenosis (narrowing of the spine)
Degenerative bone diseases like osteoarthritis
Prostate cancer (males)
Breast cancer (females)
The good news is that there are many options available for treating back pain. Physical therapy is often recommended for patients with low back pain. Physical therapy can help reduce your pain and improve your mobility. All clinics in the H2 Health Family provide a customized back pain treatment that uses physical therapy, occupational therapy, and manual therapy techniques to heal your pain.
With the nationwide availability of our services, we will help you get through your back pain the right way. Request an appointment or call us today at your nearest location.
Want to talk to a real person? Call us 5 days a week!