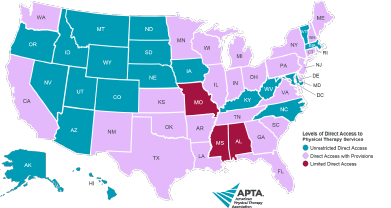 Did you know every state has laws in place to allow people to see a therapist for an evaluation and some form of treatment without a physician referral? These direct access benefits alleviate unnecessary delays in recovery for people who would benefit from treatment by a therapist. Delays in care result in higher costs with copays to different physicians, decreased outcomes, and frustration for patients seeking physical, occupational, or speech therapy treatment.
Learn more about your state's specific regulations on what services are covered and for how long.
Direct Access Benefits by State
No Physician Referral Needed
See us first without paying an extra copay just to get a referral.
Insurance Reimbursement
Over 90% of insurance companies cover Direct Access treatments.
Faster Relief
Get evaluated and treated without expensive diagnostic testing and unnecessary appointments.