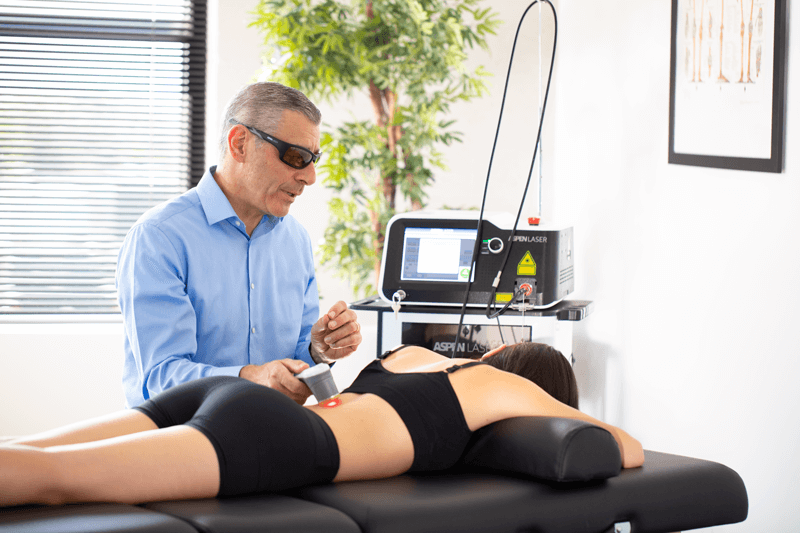 Laser therapy is a quick, pain-free treatment for chronic pain. No drugs or surgery is required, limiting side effects and risks associated with alleviating pain. Since treatment only lasts a couple of minutes, you can be in and out feeling better quickly! Patients typically feel better and see signs of improvement after their first or second treatment! The Aspen Laser System used at Total Pain Relief uses photobiomodulation-1000 which causes the stimulation of cells and tissue repair based on scientific research. These studies demonstrate positive results from infrared wavelengths on cellular organelles and electron chain molecules, resulting in less pain for even the toughest diagnoses.
Not all locations offer laser therapy. Click here to find your closest clinic and the services they offer.
Laser Therapy Frequently Asked Questions
What does laser therapy do?
Laser therapy increases blood flow, accelerates tissue healing, reduces inflammation and swelling, alleviates pain, and reduces stiffness. Laser therapy speeds up the recovery process which gets you back to normal faster.
Does laser therapy hurt?
No! The treatment is pain-free and the area will feel warm and comfortable. Initially, lasers in a therapy setting were low-power or "cold therapy" lasers. Later, Class 3 lasers were released as a state-of-the-art treatment. We now have Class 4 lasers we use in our clinic that are 30 times more powerful than Class 3 lasers with better results.
What can laser therapy treat?
Laser therapy is great for muscle aches, sprains, strains, tendonitis, arthritis, sciatica, capsulitis, scar tissue, inflammatory conditions, and more! Contact us with your specific diagnosis to see if laser therapy is an appropriate treatment for you.
OFFERED AT THE FOLLOWING LOCATIONS