Pediatric Physical Therapy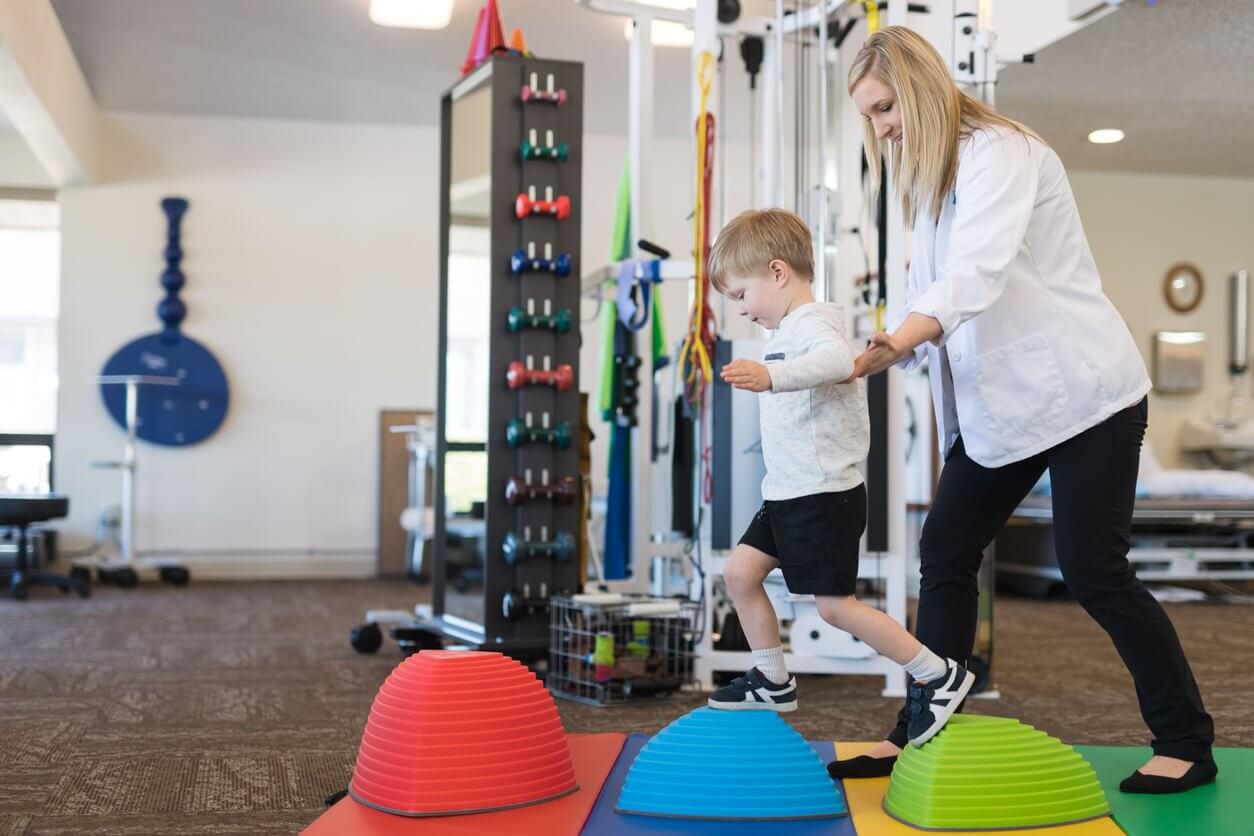 Children are born with a natural curiosity for the world around them. They're constantly exploring, learning new skills, and growing stronger every day. However, some kids need a little extra help to reach their full potential. That's where physical therapy comes in.
Physical therapy for children usually begins with an assessment to identify any areas of concern. From there, the therapist will develop a personalized treatment plan that may involve exercises, stretches, massages, or other activities. The goal is to help children with:
Achieving Developmental Milestones
Decreasing pain
Improving movement disorders
Wheelchair evaluations and other equipment needs
Sports and Injury Rehabilitation
If your child is struggling with movement or development, don't hesitate to ask our doctor about a referral to a pediatric physical therapist. With the right help, your child can reach new heights. Check out our convenient locations that offer pediatric physical therapy!
How Can Physical Therapy Help Your Child?
A certified physical therapist assists children and their families on learning exercises and stretches that will help them heal and improve their range of motion, strength, balance, movement safety and much more. PT can also help to reduce pain and inflammation from injury and illness. Early intervention physical therapy will focus on developmental milestones and infant movement and positioning to allow for continued growth and development. Gross motor movement is the foundation to all fine motor and social skills, as a result, it's an essential part of helping kids grow.
What Are the Benefits of Physical Therapy?
Physical therapy helps kids with a variety of issues, including muscle weakness, coordination problems, developmental skills, social skills through sports play, balance, flexibility, and recovery from injury.
Physical therapy is a team approach with the doctor, family therapist and patient. Therapy targets goals important to the patient and family to make meaningful progress and change. It is a safe and effective way for kids to get active and stay healthy.
If you believe your child could benefit from physical therapy, be sure to ask your doctor for more information and a referral for a physical therapy evaluation.
How Long Will My Child Need to Go to Physical Therapy?
Some children will need to go to physical therapy for a short time, while others may need it for a longer period of time. It all depends on the injury or condition that is being treated. For example, a child who has had a minor surgery may only need to go to physical therapy for a few weeks. However, a child with a more serious condition may need to go to physical therapy for several months or even years.
No matter how long a child needs to go to physical therapy, it is important to remember that each child is unique and will progress at his or her own pace.
What To Expect From The First Few Physical Therapy Sessions
Parents often ask what the first few physical therapy sessions will be like for their child. Here's what you can expect:
We will ask questions about your child's development, medical history, and current symptoms. This information will help the therapist understand your child's needs and develop a treatment plan.
The therapist will observe your child in action. The therapist may watch your child play, eat, or perform other activities. This will help the therapist identify areas of difficulty and potential goals for treatment.
After observing your child, the therapist will work with you to develop specific goals for treatment. These goals may target skills such as fine motor coordination, self-care skills, or social skills.
The therapist will then create a treatment plan to help your child reach these goals. Treatment may involve activities, exercises, games, and/or equipment. The therapist will also provide guidance on how you can support your child's progress at home.
The first few physical therapy sessions are an important time for assessing your child's needs and developing a plan to help them reach their fullest potential. By working closely with the therapist, you can ensure that your child gets the most out of therapy.
By the end of the initial evaluation process, you should have a good idea of what therapy will entail and how it can help your child reach their full potential. We are here to answer any questions you may have along the way. Find our nearest location to get the services you need.