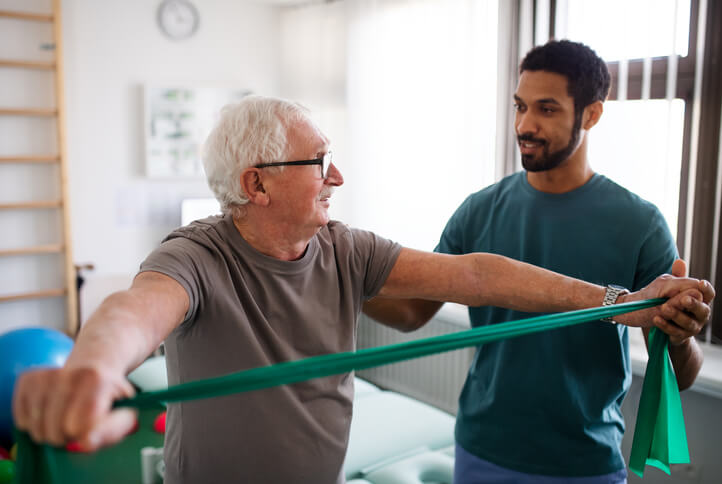 Our therapists are certified in programs to help people with Parkinson's Disease. While Parkinson's symptoms widely vary and progress differently from person to person, some universal symptoms are improved through proven researched therapy techniques. We offer a variety of services to help with Parkinson's symptoms such as LSVT BIG physical therapy, occupational therapy, LSVT LOUD speech therapy, and more.
Not all locations offer Parkinson's therapy. Click here to find your closest clinic and the services they offer.
ABOUT PARKINSON'S DISEASE
Parkinson's Disease (PD) is a progressive, neurological disorder that affects the nerve cells in the brain. When the nerve cells in the brain are affected, they stop producing dopamine which controls body movements, critical thinking, and other behaviors. Common observable symptoms of Parkinson's disease include slurred speech, irregular facial expressions, balance disorders, muscle and joint stiffness, slowed movement, and severe tremors.
This disease is the second leading brain disorder in the United States after Alzheimer's disease. The exact cause of PD is unknown and symptoms progress at different rates in every individual. This makes the disease very difficult to diagnose. We refer patients who show PD related symptoms to a neurologist to be tested.
HOW THERAPY CAN HELP
Fortunately, physical, occupational, and speech therapy can help slow the progress of Parkinson's and provide relief for symptoms. It also helps to improve flexibility and strength by addressing several issues that Parkinson's disease may cause, including abnormal gait, freezing, and dystonia. Click on the disciple below to learn more about our specialty programs and learn more.
H2 Health network understands that neurological diseases can be devastating. We are committed to helping people with neurological diseases like Parkinson's disease by providing quality outpatient therapy. The H2 Health Family strives to provide the best possible care for our patients in communities across the US. Call us today at (800) 699-9395 or visit us at your nearest location to learn more about our services for neurological conditions.